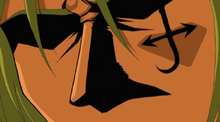 Jade was first introduced as General Jade, one of the four Imperial Generals, along with Deep Snow. After the collapse of the empire he wandered the countryside and happened to be in the same village where his younger brother Jegan washed ashore. The two brothers saw each other when Jegan was going to attempt suicide. Then the village was attacked by Shakuma Raregroove. He is seen again in the final battle with Evermary aboard one of the airships that arrives to help the Rave Warriors against Lucia.
Ad blocker interference detected!
Wikia is a free-to-use site that makes money from advertising. We have a modified experience for viewers using ad blockers

Wikia is not accessible if you've made further modifications. Remove the custom ad blocker rule(s) and the page will load as expected.