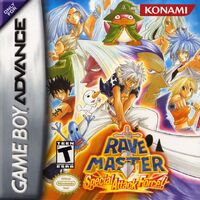 Rave Master: Special Attack Force! is a 2-D video game of Hiro Mashima's Rave Master series. It was released for Nintendo's Game Boy Advance. In all, it has 14 playable characters and five modes of playing.
Developer: Konami
Publisher: Konami
Release Date: Japan: September 29, 2002
Genres: Fighting Game
Game Modes: Single Player, Multiplayer
Platform: Game Boy Advance
Playable Charcters
Gameplay Modes
Story
Ranking
Free Battle
Training
Link Play (Multi-player)
External Links
Ad blocker interference detected!
Wikia is a free-to-use site that makes money from advertising. We have a modified experience for viewers using ad blockers

Wikia is not accessible if you've made further modifications. Remove the custom ad blocker rule(s) and the page will load as expected.