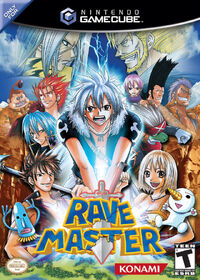 Rave Master: Fighting Live is a video game of Hiro Mashima's Rave Master series. The game was released on March 20, 2002 in Japan by Konami for the GameCube. In all it has 13 playable characters.
Developer: Konami
Publisher: Konami
Release Date:
Japan: March 20, 2002
North America: March 8, 2005
MSRP:29.99 USD
ESRB:
North America: T for Teen
Japan: ?
Genres: Fighting Game
Game Modes: Single Player, Multiplayer
Platform: GameCube
Playable Charcters
Unlockable Characters